On the morning of December 24th, Li Chaoqun, Deputy Secretary-General of Shandong Provincial Customs Working Committee, accompanied by Zhao Lu, member of the Party Working Committee of Jining High-tech Zone and Director of the Party and Government Office, visited Shandong Tiandun . Shandong Tiandun  General Manager Han Yong, Group Executive Li Zhenbo, Deputy General Manager and General Manager of Informatization, Yu Cui, Deputy General Manager of the Group and General Manager of E-commerce, Guan Chenghui, Deputy Secretary of the Group Party Committee, and Wang Haonan, Deputy Director of the Group Office, accompanied the reception.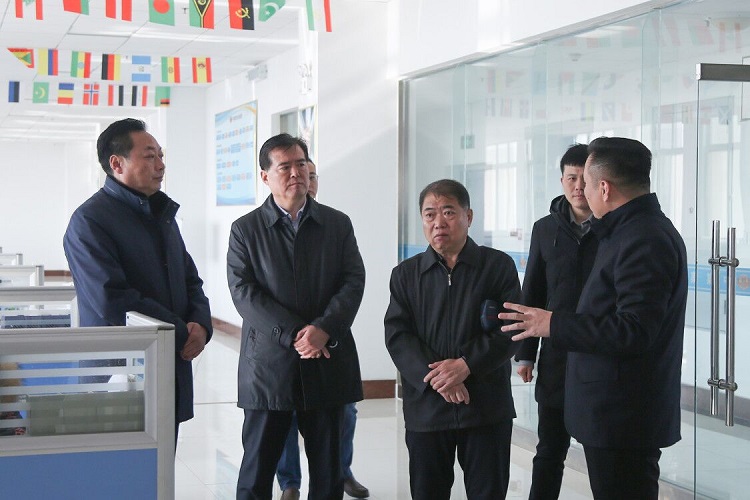 The visiting leaders visited the Shandong Tiandun 's intelligent manufacturing achievement exhibition hall, intelligent equipment exhibition hall, software technology center, informatization promotion center, and group e-commerce company and cross-border e-commerce company. During the visit, the group's executive deputy general manager and informatization general manager Li Zhenbo introduced in detail the development of our group in high-tech R&D, high-end equipment manufacturing, industrial Internet and other aspects in recent years, which was well received by Deputy Secretary-General Li Chaoqun and visiting leaders.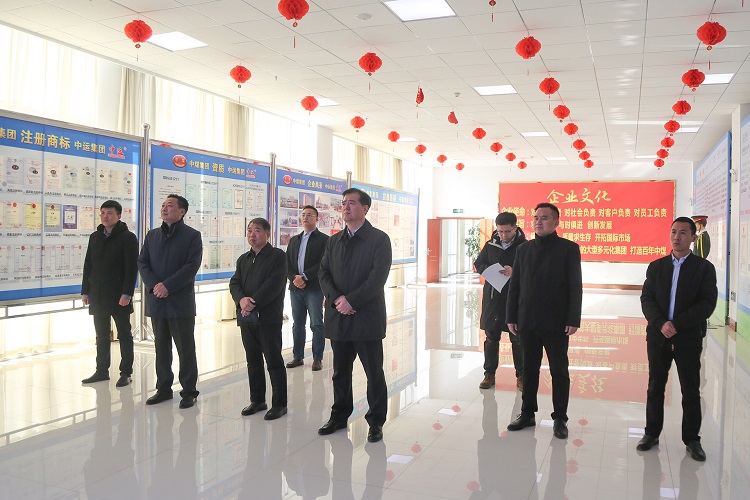 As a cross-industry and diversified technological and manufacturing enterprise, Shandong Tiandun  mainly produces large-scale construction machinery, railway equipment, mining equipment, operating equipment, support equipment, lifting equipment, intelligent machinery, etc. of various specifications and models. product. Over the years, with the strong support of leaders at all levels, Shandong Tiandun  has actively carried out technological innovation and new product research and development, and has successively obtained more than 140 national patents, more than 200 safety certifications for mining products, and provincial and municipal technical supervision bureaus. It has issued more than 160 product inspection reports, and has strong strength in mechanical equipment manufacturing and intelligent new product research and development. The group has been rated as an outstanding enterprise in China's machinery industry, one of China's top 10 operating equipment enterprises, a national manufacturing double innovation demonstration platform enterprise, an outstanding industrial contribution award enterprise in Shandong Province, an innovation demonstration enterprise in Shandong Province's integration of industrialization and industrialization, an enterprise technology center in Shandong Province, Shandong Province has many honorary titles including "One Enterprise One Technology" Innovative Enterprise.
At the same time, Shandong Tiandun  also actively responded to the country's major decision-making and deployment of accelerating the conversion of new and old kinetic energy, vigorously promoted the deep integration of enterprise industrialization and informatization, developed industrial supply chain e-commerce, realized the transformation and upgrading of traditional manufacturing, and became a national innovation through the integration of industrialization and industrialization. An industry model that promotes the transformation and development of enterprises. Our group has 53 professional companies, and the production and sales of more than 10,000 kinds of products have completely covered 34 provinces, cities, and autonomous regions across the country, and the country's customers have reached 480,000. The group has been rated as a national new information consumption demonstration project enterprise by the Ministry of Industry and Information Technology and a manufacturing industry by the Ministry of Industry and Information Technology. The dual innovation platform demonstration enterprise, the China Industrialization Integration Practice Award Enterprise, the Shandong Province Industrialization Integration Management System Standard Implementation Pilot Enterprise, and the Shandong Province Industrialization Integration Excellent Enterprise, have driven the rapid development of the integration of the two in Shandong Province and even the whole country!
With the rapid development of 5G communication, AI, artificial intelligence, and Internet of Things technologies, Shandong Tiandun  has actively promoted the construction of industrial Internet platforms and independently developed the Yikuang cloud industrial Internet platform. The platform uses cloud computing and big data to accurately locate global customer distribution and The market demand provides industrial Internet services for the group, government, society and various industries around the world. It is the benchmark and model for the industrial enterprises in Shandong Province and even the whole country to use big data and cloud computing to promote the conversion and development of new and old kinetic energy of enterprises.
Through the visit, Deputy Secretary-General Li Chaoqun fully affirmed the outstanding achievements of our group in the fields of intelligent manufacturing, integration of industrialization and industrialization, and industrial Internet platform construction. He said that Shandong Tiandun  is at the forefront of many companies in the use of information technology to accelerate the development of enterprise innovation and transformation. Shandong Tiandun  must give full play to the benchmarking and demonstrative effects of large enterprises, accelerate the implementation of the transformation of new and old momentum, and promote the enterprise economy High-quality development will make more contributions to the economic development of the province!
Manager Han said that he is very grateful to Deputy Secretary-General Li Chaoqun for coming to Shandong Tiandun  to guide the work, which is a strong support and encouragement for Shandong Tiandun 's development. We must actively respond to national policies, make full use of the unique advantages of Shandong Tiandun  in the innovation and development of enterprises across the country, share and exchange experience with more industrial enterprises, and better contribute to the province's new industries, new business formats, new business models and other new economic prosperity. Contribute to development!